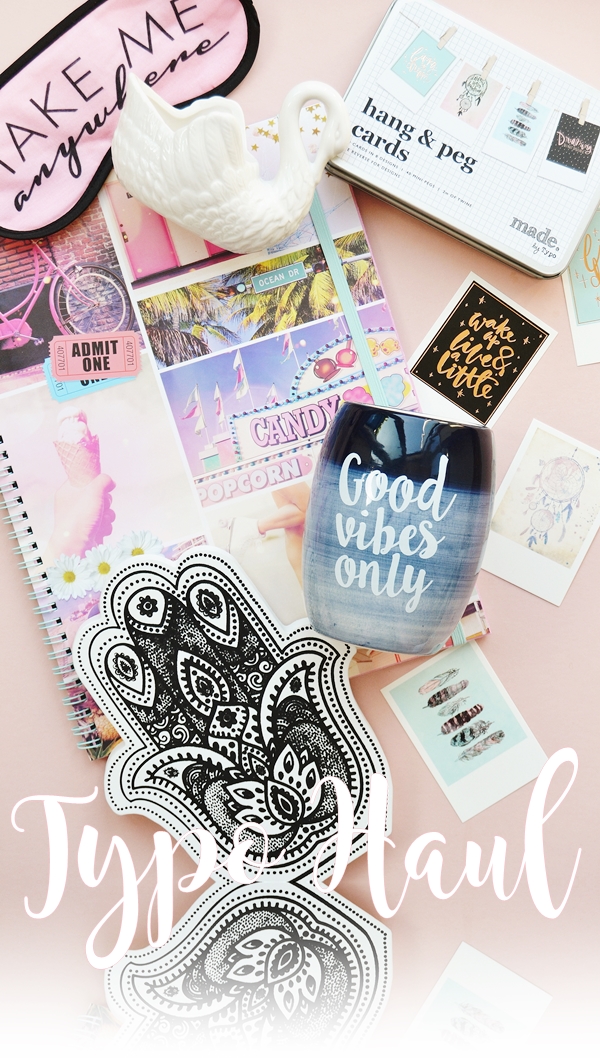 Typo is a store I'm fairly new to and only heard about from people raving how good the Australian decor/station

e

ry store was. I then discovered t

hat Typo

actually have a UK based website (here!) and instantly got why people were mentioning it! Think Urban Outfitters without the hiked up prices and a sh*t ton more station

e

r

y

.
With 20% off your first order

plus

free delivery over £25 it would have been rude not to place an order, albeit an unnecessary one. I think for just over £25 I did well

,

picking up a few stationary items and some lovely decor pieces.
Hang & Peg Cards £8.00 here
This lovely set comes with 40 mini message cards in 8 designs, a 2m piece of twine and lots of mini pegs to attach them. I personally love anything like this, that feels a bit Pinterest-y and I love that you get extra cards

to use

as gift tags, little note cards or to create more displays with. I especially love the rose gold foil cards but they are all really lovely and well printed onto thick card. These will be hung in my office. P.S The pegs are just plain wood... I've already been getting crafty and added gold glitter to

my pegs

.
Carnival Collage A4 Notebook £2.00 here
For £2.00 I couldn't not pick up a notebook! I'm basically obsessed with printed notebooks and loved the summer design to this one... it

reminds me of

Coney Island. It's also lined and

has a

handy pocket inside for receipts and notes. So many other designs on the website that I want!
Swan Pen Holder £3.49 here
Can we just take a moment to appreciate how pretty this pen holder is! As these are currently reduced from £7.00 I decided to pick up

two

with the idea of planting succulents in them. Of course you could use it as a pen holder or just a little trinket jar but I love the idea of using them as a pair of mini swan planters. Again lots of different pots and pen holders on the website.
Good Vibes Only Pen Pot £7.00 here
As you can see I picked up another pen holder and again won't be using it for pens! T

his really is

just too pretty for it's intended purpose so I will be using it for my favourite makeup brushes. I love the watercolour ombre wash to it and modern calligraphy font. Just perfect!
Hamsa Hand Wooden Symbol £2.50 here
Ok, so this was a total bargain

at

£2.50. For the price and the 3 for £6 offer I really didn't expect something as thick and solid. I may just place this on my desk or actually hang it on the wall. You can find other shapes such as mountains and flamingos and letters here.
Take Me Anywhere Eye Mask £3.50 here
A bit of a last minute buy here to bump up my basket to £25 for free delivery. I've fancied trying an eye mask for a bit more and with Typo having such a wide selection I decided to pick one up. It's pretty standard but I love the saying

on it.
I'm so pleased with everything I ordered... the only problem is that I now know the products are such good quality and want to buy up the whole website! A few wish list items are this lovely 'Be Happy' mug, a few of the alphabet trinket trays and practically all of the cushions and wall art!
I think I may have found a new favourite website with Typo!
Fee xo.